The Green Planet AR Experience powered by EE 5G to launch in London February 2022
---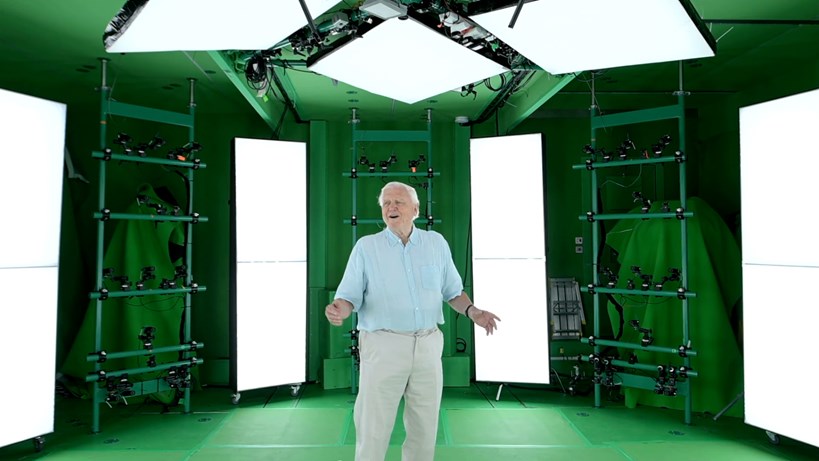 Work-in-progress production image captured during the making of The Green Planet AR Experience, powered by EE 5G
Through the magic of augmented reality, guests of all ages can accompany a virtual David Attenborough on an immersive journey into the secret kingdom of plants, inspired by the current BBC One series
From 11th February to 9th March 2022, The Green Planet AR Experience, powered by EE 5G, will be opening its doors to the public at 55 Regent Street, London
This ground-breaking experience is free to attend, and tickets can be booked at www.TheGreenPlanetExperience.co.uk
Opening its doors at 55 Regent Street, London from February 11th to 9th March 2022, The Green Planet AR Experience, powered by EE 5G will offer guests a window into the secret kingdom of plants through an immersive augmented reality journey accompanied by a virtual David Attenborough transformed into a 3D hologram.
Visitors to the free to attend experience, created by Factory 42 with BBC Studios and inspired by The Natural History Unit landmark series, The Green Planet, will travel through six digitally enhanced worlds – including rainforests, freshwater and saltwater worlds, the changing seasons and desert landscapes, culminating in the human story and how we can all affect positive change. 
Guests will enter the experience from Regent Street through a living rainforest complete with hundreds of tropical trees, plants and shrubs. Before entering the first of the digitally enhanced biomes, guests will be given a smartphone device which will become their dynamic window into the world of plants. With the magic of augmented reality and 5G technology, visitors will discover the world of plants on their timescale and from their perspective.
As Sir David explains "You'll see that plants can be as aggressive, competitive and dramatic as any living thing on the planet - and how they form intriguing relationships with animals. And you'll discover why plants are so vital for the future of our planet. Your device is a window into a secret world."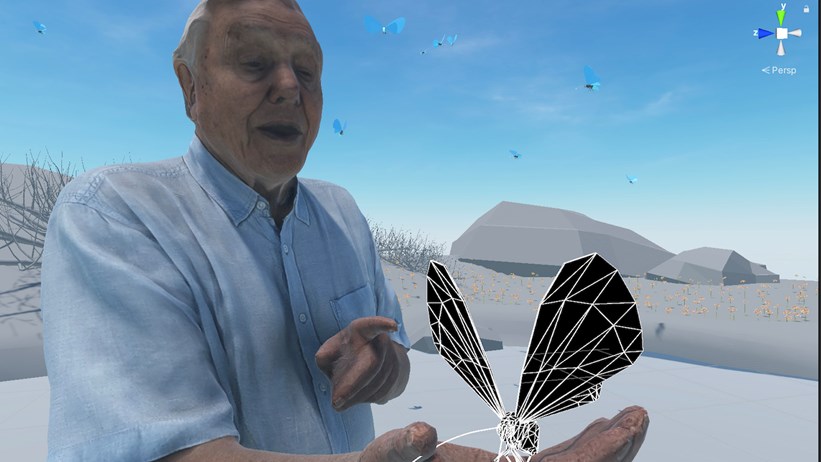 David Attenborough in holographic form will accompany visitors with useful prompts showing guests where to point their devices to see all of the augmented reality plant and animal life in all its glory, as well as offering insights on the plant life on display.
Rainforest Biome
The first of the biomes offers visitors the chance to join a virtual David Attenborough under the canopy of the Amazon Rainforest to witness the wonders of this intricately balanced ecosystem and watch as the giant balsa tree grows from a digital seed to join the canopy as a towering virtual tree. The augmented reality allows guests to see years of rapid balsa tree growth in a matter of seconds, as well as over 350 plants and animals that call the rainforest their home.
Freshwater Biome
The augmented reality magic continues in the second biome, where guests will venture into the depths of the Amazon Basin where they will learn the secrets of the Giant Amazon Water Lily, following the perilous journey of the scarab beetle as it's captured by the flower for pollination.
Saltwater Biome
In the third biome, visitors can wander through the underwater meadows of Neptune Seagrass, learning about this wonder plant that captures incredible amounts of carbon and plays a valuable role in cleaning up our oceans. By moving through the augmented reality Neptune Seagrass, visitors will become the current, watching as shoals of Damsel fish feed between the fronds and turtles, barracuda and amberjacks swim past.
Desert Biome
Guests will explore the Saguaro Cactus of the Sonoran Desert of Mexico in the fourth biome, hearing from Sir David about this pillar of the community and how many animals depend on it for food and shelter. Visitors will be awestruck at the scale of this cactus as they watch the Gila Woodpecker make its nest.
Seasonal Biome
In the Seasonal Biome, visitors will enter the South African Cape to be taken on a tour of the Fynbos, one of the richest and most diverse ranges of flowering plant species on the planet, before being engulfed in a huge digital fire The environmental conditions created by the fire prompt the mysterious Fire Lily to bloom before visitors eyes, filling the biome with opportunistic pollinators including the Table Mountain Butterfly.
Human Biome
Concluding this virtual journey through some of the world's most fascinating plant life, visitors will visit the Human Biome where they will learn about how domesticated plants are impacting thousands of wild species.
Through this technology, the experience engages audiences with plant life in an immersive and intimate way, allowing visitors to witness the extraordinary nature of plants and in doing so, learning why they are so vital for the future of our planet.
Scientists and horticultural experts at the Royal Botanic Gardens, Kew have been involved in the creation to ensure every tree, leaf and flower guests experience is a scientifically accurate representation.
Put nature at your fingertips, in a ground-breaking experience powered by EE's 5G network. Tickets can be booked at: www.TheGreenPlanetExperience.co.uk
ENDS
***
NOTES TO EDITORS:
Scientists and horticultural experts at the Royal Botanic Gardens, Kew have been involved in the creation of the digital plant life that will be seen at The Green Planet Experience powered by EE 5G, ensuring every leaf, tree and flower that guests will experience is a scientifically accurate representation. This is part of Kew's mission to help halt biodiversity loss.
Sustainability has been considered at every stage in the production of the Green Planet Experience, powered by EE 5G, from electronic ticketing, to signage throughout which details the provenance of all the materials selected to create the experience and plants featured in the rainforest and how they will be reused and recycled after the experience closes.
The Green Planet 5G AR Consortium is one of nine projects to win £2.2m funding as part of the 5G Create competition backed by the Department for Digital, Culture, Media & Sport, which is testing how 5G technology can be used by a wide range of sectors including the creative industries.
The Crown Estate is working in partnership with The Green Planet 5G AR Consortium, and providing the space on Regent Street, which forms part of a number of recent sustainability focussed pop-ups on Regent Street, which The Crown Estate has supported.
About The Green Planet 5G AR Consortium
Six of the world's leading creative, technology and scientific organisations formed The Green Planet 5G AR Consortium to create a new experience inspired by the forthcoming BBC Studios Natural History Unit landmark series, The Green Planet presented by Sir David Attenborough.
The consortium is led by immersive content studio Factory 42 and includes BBC Studios, 5G mobile network operator EE, Royal Botanic Gardens, Kew, Talesmith and Dimension Studios. Together they have been working to explore and develop a ground- breaking AR experience inspired by the landmark BBC One upcoming TV series, The Green Planet. The TV show will be presented by Sir David Attenborough.
About EE
EE runs the UK's biggest and fastest mobile network, offering superfast connections in more places than any other operator. EE brought the first 4G network to the UK in October 2012 with it continuing to be the UK's biggest 4G network and launched the UK's first 5G network in May 2019.
EE has received extensive independent recognition, including being named the UK's best network every year since 2015 for all the following awards: The Mobile Choice Awards, The Mobile News Awards, The Mobile Industry Awards and by RootMetrics®.
EE's 4G and fixed line full fibre network supports the demands of fully connected homes as well as small and medium businesses with speeds up to 900Mbs. EE is committed to being number one for service in the industry and continues to be the least complained about broadband provider as recognised by Ofcom.
Its retail presence exceeds more than 600 shops across the UK. EE remains the only mobile provider to answer 100% of customer calls in the UK and Ireland and was recognised as the UK's Best Large Contact Centre by the UK Customer Experience Awards 2018 and Welsh Contact Centre Awards 2019. EE was awarded The Sunday Times' Best 100 Companies to Work for in 2018 and 2019, as well as being named Best Employer 2018 by the European Contact Centre & Customer Service awards.
EE is part of BT's Consumer business unit which provides products and services to all of BT's consumer customers in the UK. Follow us on…
Facebook at: www.facebook.com/ee
Twitter at: www.twitter.com/ee
YouTube at: www.youtube.com/ee
LinkedIn at: www.linkedin.com/ee/ee-uk
About BBC Studios
BBC Studios, a global content company with bold British creativity at its heart, is a commercial subsidiary of the BBC Group, supporting the licence fee and enhancing programmes for UK audiences. Able to take an idea seamlessly from thought to screen and beyond, its activities span content financing, development, production, sales, branded services, and ancillaries across both its own productions, and programmes and formats made by high-quality UK independents. Award-winning British programmes made by the business are internationally recognised across a broad range of genres and specialisms, with brands like Strictly Come Dancing/Dancing with the Stars, Blue Planet II, Top Gear and Doctor Who. BBC.com, BBC Studios' global digital news platform, provides up-to-the-minute international news, in-depth analysis and features to more than 139 million unique browsers each month. BBC Studios has offices in over 20 markets globally, including ten production bases in the UK and production bases or partnerships in a further seven countries around the world. The company, which ordinarily makes around 2000 hours of content a year for both the BBC and third parties including Apple, Netflix and Migu, is a champion for British creativity around the world.  It is also a committed partner for the UK's independent sector through a mix of equity partnerships, content investment and international distribution for programme titles. 
BBC Studios | Website | Press Office | Twitter | LinkedIn | Instagram |
About Factory 42 
Factory 42 is a multi-award winning immersive content and experience studio on a mission to make knowledge entertainment. It mixes the best talents from the worlds of film, television, games and performance with the smartest technical minds to deliver immersive experiences that matter. Credits include the upcoming Green Planet 5gAR with BBC Studios and Sir David Attenborough, critically acclaimed Hold the World with David Attenborough VR experience enabling audiences to explore unique aspects of the Natural History Museum's collections, as well as Painting the Future in partnership with the Royal Academy which won Best VR Experience at the Broadcast Digital Awards, and an immersive version of English National Ballet's acclaimed Giselle choreographed by Akram Khan.
About Royal Botanic Gardens, Kew
The Royal Botanic Gardens, Kew is a world-famous scientific organisation, internationally respected for its outstanding collections as well as its scientific expertise in plant diversity, conservation and sustainable development in the UK and around the world. Kew Gardens is a major international and a top London visitor attraction. Kew Gardens' 132 hectares of landscaped gardens, and Wakehurst, Kew's Wild Botanic Garden, attract over 2.5 million visits every year. Kew Gardens was made a UNESCO World Heritage Site in July 2003 and celebrated its 260th anniversary in 2019. Wakehurst is home to Kew's Millennium Seed Bank, the largest wild plant seed bank in the world. RBG Kew receives approximately one third of its funding from Government through the Department for the Environment, Food and Rural Affairs (Defra) and research councils. Further funding needed to support RBG Kew's vital work comes from donors, membership and commercial activity including ticket sales.
About Dimension Studios
Dimension provides revolutionary volumetric and real-time production studios for the creation of next-generation Virtual Production, Digital Humans, and XR content. With production studios based in the UK and US, and mobile stages that operate worldwide, Dimension is focused on shaping the future of virtual entertainment. The Dimension team were early pioneers of virtual and volumetric production for filmmaking, working on feature films, drama series and broadcast productions for customers including Disney, Apple, HBO, Sky and Netflix. 
About Talesmith
Talesmith are multi award-winning producers of a new kind of specialist factual content for the modern generation. Led by four-time Emmy-winning film-maker Martin Williams, Mark Wright and Ruth Roberts, this is a team with decades of world-class science, natural history and adventure production experience. Talesmith strives to push the boundaries of storytelling and innovation, embracing the latest technology and working beyond broadcast to include VR, AR, 3D, 4D and Visitor Attractions. This team has won global accolades, producing some of the highest profile factual specials and series of recent years, alongside a strong track record working with incredible access and top talent, including Sir David Attenborough, Prince William, President Obama & Professor Stephen Hawking. Talesmith is highly experienced within the global market and co-production, crafting compelling stories for the international audience. 
Recent credits include Prince William: A Planet For Us All (ITV, 2020) Shark Week 2020: Lair Of The Great White (Discovery, 2020), Aib-Winning Series Earthrise (Al Jazeera, 2019), Multi Award Winning Takaya: Lone Wolf (Cbc/ BBC/ Arte, 2019), Panda-Nominated The Real T Rex With Chris Packham (BBC/ CBC/ France Tv, 2018), The Life Of Earth (Smithsonian/ Zee, 2018), Hold The World With David Attenborough Vr (SkyVR, 2018), Flyride Five Mountains 4D (Legend Cultural Development, 2019) & Flyride Changbaishan 4D (Legend Cultural Development, 2018)
About The Crown Estate  
The Crown Estate is a unique business with a diverse portfolio that stretches across the country. We actively manage our assets in line with our purpose: to create lasting and shared prosperity for the nation. 

Our portfolio includes some of central London's best places to work, shop, live and experience, as well as regional retail and leisure destinations across the country, a substantial rural portfolio, a number of mixed-use and strategic land opportunities, and the Windsor Estate, including the world-renowned Windsor Great Park.

 

We also manage the seabed and half the foreshore around England, Wales and Northern Ireland, and therefore play a fundamental role in the sustainable development of this important national asset, including in the UK's world-leading offshore wind sector as well as marine aggregates, cables and pipelines and CCUS. 

Established by an Act of Parliament, we are tasked with generating profit for the Treasury for the benefit of the nation's finances, this has totalled £3bn over the last ten years.