Peter Jones shares his toolkit for business success with BBC Maestro
---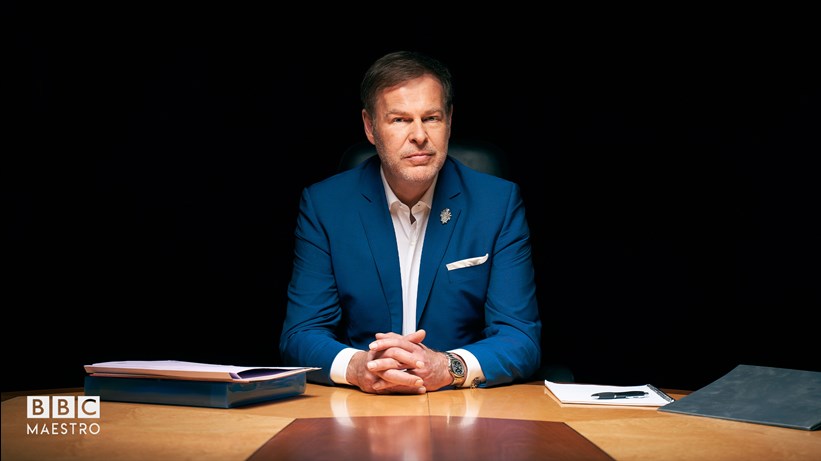 For the first time, the Dragons' Den star is offering entrepreneurs access to his unrivalled experience in business in a course from BBC Studios' partner, BBC Maestro.
Star of BBC's Dragons' Den, investor in over 100 businesses and founder of the UK's first Enterprise Academy (PJEA) Peter Jones CBE is, for the first time, offering entrepreneurs access to his unrivalled experience in business in this practical and insightful course.
Peter joins other world-class experts on the BBC Maestro platform, including Gary Barlow teaching Songwriting, Marco Pierre White teaching Delicious Food Cooked Simply and David Walliams teaching Writing Books for Children.
Launching his first business at the age of 16, Peter has amassed more than 40 years knowledge, insight and experience all of which has been put into his Toolkit for Business Success.
"No matter where you are in life or what your financial situation is, whether you've got a kernel of an idea or a business, work for an entrepreneurial business or own a business that's already employing people, this course is going to help you understand how to harness that passion that's sitting inside of you, to achieve your goals and drive you towards success." - Peter Jones CBE
Peter believes "entrepreneurs are made, not born" and that with the right mindset, along with his business toolkit, anyone can achieve success. Peter's course on BBC Maestro is that toolkit.  With 40 video lessons and over 160 pages of downloadable course notes, packed with exercises, templates, tips and hours of content, Peter's course offers the complete, practical "how to" guide for any aspiring entrepreneur.
See inside the mind of Britain's favourite Dragon as he delves into the psychology of being a successful entrepreneur, flags avoidable pitfalls so many businesses make, and shares the key markers that help to propel people towards success. He'll take you from idea to launch; developing a business plan, pitching your idea, building a team, raising capital, and putting together a killer marketing plan. All while taking care of yourself by prioritising well-being, building your resilience and developing a growth mindset.
"Over the last year and a half people and businesses have been forced to be agile and adapt to changing circumstances like never before. Many are reassessing their careers. My hope is that whatever stage they are at in their journey, my course can help provide aspiring entrepreneurs with the tools, methodologies and techniques to be successful." – Peter Jones CBE
To anyone with a great idea, ambitions to take their life in a different direction, or a business that needs to be put on the path to success, Peter's BBC Maestro course will provide the understanding, insight and tools to evaluate the market, challenge the opportunity and take it to the next level.
Peter is joined on his course by fellow entrepreneurs who offer insight and tips throughout: Michelin Starred restaurateur Tom Kerridge; Dragons' Den success story and founder of the Levi Roots carribean food brand, Levi Roots; Founder and CEO of online retail rental platform, Appear Here, Ross Bailey; and Clinical Psychologist and Executive Coach, Dr Hamira Riaz.
Peter Jones's course will be available at bbcmaestro.com
It costs £80 for lifetime access to 40 exclusive video lessons with hours of content and is accompanied by over 160 pages of downloadable course notes
-ENDS-
About Peter Jones
British entrepreneur and businessman Peter Jones (CBE) has a wealth of experience in most industries but is particularly noted for his interests in technology, retail, leisure, TV and property. He is the last remaining original investor on the BBC Two series Dragons' Den and a guest Shark on Shark Tank in the USA.
According to the Sunday Times Rich List in 2020, Jones is worth an estimated £450 million. Peter's business interests are vast and wide, but his passion is in supporting and developing small businesses. His long-standing role on BBC's Dragons' Den has given him an unparalleled experience in nurturing opportunity, supporting great ideas from their infancy through their early business life and setting founders on the right path to growth.
About BBC Maestro
BBC Maestro offers never-before granted access to the minds of some of the world's greatest talents, through a series of very special video tutorials and course notes. BBC Maestro allows you to indulge in your area of passion from the comfort of your own home and learn from those experts who have done it themselves. Each course is beautifully filmed in 4K and offers several hours of content, broken down into 20 to 40 easily digested lessons, accompanied by downloadable course notes filled with hints, tips and a breakdown of each course.
Having launched in October 2020 to phenomenal success, the initial courses have attracted over one million people to the service, with thousands signing up to learn from their favourite Maestro. Peter joins other industry experts on the hit BBC Maestro platform, including; Julia Donaldson (Writing Children's Picture Books), Gary Barlow (Songwriting), Jed Mercurio (Writing Drama for Television), Marco Pierre White (Delicious Food Cooked Simply), David Walliams (Writing Books for Children) and more.
BBC Maestro taps into the fast-growing e-learning space – because of the way technology has revolutionised teaching and learning, lessons no longer have to be confined to the classroom. In 2020, the number of people using online learning videos rose dramatically, with an estimated 200 million users worldwide. The global 'Mass Open Online Courses' market size is expected to increase from $7.3 billion in 2020 to $67 billion by 2027.
BBC Maestro is a commercial platform developed and operated by Maestro Media Ltd under licence from BBC Studios Distribution Ltd.