Hey Duggee sleighs into December with a Christmas song, a new episode, a new app, and more!
---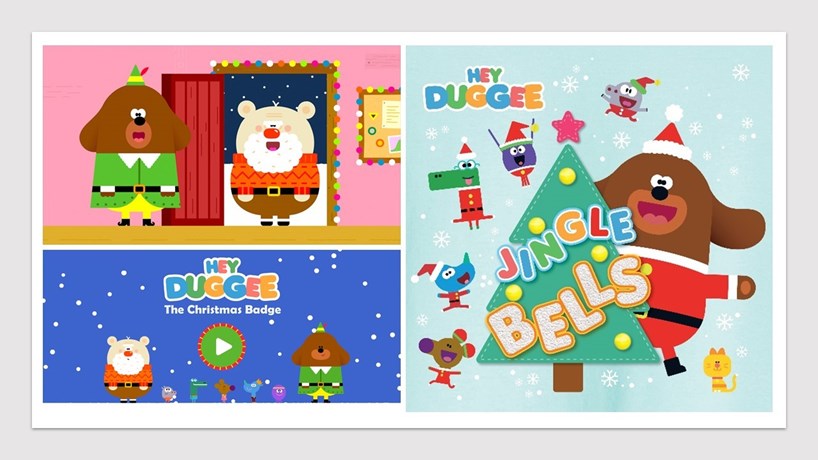 Preschool hit set to deliver big cheer this Christmas with the little things: #littlethingsbigcheer.
Hey Duggee has many little treats in store, which are guaranteed to bring great cheer this December. There is a catchy Christmas song called Hey Duggee – Jingle Bells featuring vocals from Alexander Armstrong and a brand-new episode for the festive season called Hey Duggee – The Christmas Badge, accompanied by a new A Hey Duggee app and book which share the same name.
Hey Duggee fans can now enjoy the new Duggee version of Jingle Bells on its official YouTube channel, which currently has 1.1 billion lifetime views and 797.8k subscribers. The track features freshly recorded vocals from Alexander Armstrong in his eponymous narrator voice and is available to listen to on streaming sites Spotify, Amazon Music and iTunes.
In addition to Hey Duggee – Jingle Bells, a brand-new episode called Hey Duggee – The Christmas Badge' is available to watch on BBC iPlayer.  As with many episodes of Hey Duggee, there are a couple of subtle cultural references in The Christmas Badge and parents may recognise nods to iconic Christmas movies It's A Wonderful Life and Elf.
The episode sees Duggee and the Squirrels, who are all  excited about Christmas, welcome Duggee's friend Clarence (a big ole' polar bear) to the Clubhouse. Clarence is usually full of Christmas cheer, but he's not feeling it this year, so Duggee and the Squirrels attempt to cheer him up by sharing the little things that make each of their Christmases special. For Betty it's Christmas crackers, Tag enjoys the Christmas songs, Happy loves Christmas hats, Norrie likes to make a Gingerbread House, and for Roly it's all about the 'Christmas Potato'. Gradually Clarence is cheered by the Squirrels' humble gestures and he regains his Christmas spirit.
Also launching in December is The Christmas Badge App (Scary Beasties, £2.99), which is packed with fun festive activities and games with each of the Squirrels to show Clarence their favourite parts of Christmas. Users can help Clarence regain his Christmas cheer in the Interactive Clubhouse, help Betty build the ultimate Christmas Cracker, learn to play a festive song with Tag, create awesome Christmas hats with Happy, help Roly hunt for Christmas potatoes, unwrap Christmas presents with Duggee and help Norrie build a gingerbread house, while earning the Christmas Badge along the way. 'The Christmas Badge App' is available on IOS and Android from 8th December.
Hey Duggee: Duggee and the Christmas Badge book is out now (Penguin Random House, £6.99 RRP) and is based on the Hey Duggee Christmas episode, which is available to watch on BBC iPlayer. With a super glittery cover, the Hey Duggee picture book would make a perfect Christmas gift for little ones.
Stay tuned to Hey Duggee's YouTube, Twitter, Facebook and Instagram channels too as there will be plenty of festive activities to keep families entertained, including Christmas bakes, crafts, playlists and more!
Harriet Newby-Hill from BBC Studios said: "Given Christmas will be quite different for families this year, we are delighted to offer a sleigh full of new Hey Duggee content and products that we hope will bring great cheer to little ones and their parents during the festive season."
Hey Duggee is narrated by comedian Alexander Armstrong and follows the adventures of pre-schoolers Happy, Tag, Norrie, Betty and Roly as they try new things and earn badges at The Squirrel Club under the guidance of Duggee.
Hey Duggee, a Studio AKA production with BBC Studios, is a six-time BAFTA and international Emmy award-winning hit on CBeebies. It was the most-watched kids' show on BBC iPlayer with 67 million requests and reached 1.4 million people as the top-ranking CBeebies show during April, May and June this year. Hey Duggee also has an impressive global footprint in over 150 territories.
-Ends-
Notes to Editors
Press Contacts
For more information, please contact: frances.cherry-becker@bbc.com
About BBC Studios
BBC Studios, a global content company with British creativity at its heart, is a commercial subsidiary of the BBC Group.  Able to take an idea seamlessly from thought to screen, it spans content financing, development, production, sales, branded services, and ancillaries from both its own productions and programmes and formats made by high-quality UK independents. Award-winning British programmes made by the business are internationally recognised across a broad range of genres and specialisms, including factual, drama, entertainment and comedy. BBC Studios has offices in 22 markets globally, including six production bases in the UK and production bases and partnerships in a further nine countries around the world. The company, which makes around 2,500 hours of content a year, is a champion for British creativity around the world and a committed partner for the UK's independent sector. Created in April 2018 by the merger of two existing commercial subsidiaries, BBC Worldwide and BBC Studios, the company has revenue of around £1.4bn.  In the year to March 2019, it returned £243m to the BBC Group, complementing the BBC's licence fee and enhancing programmes for UK audiences.