BBC Studios Natural History Unit announces Planet Earth: A Celebration
---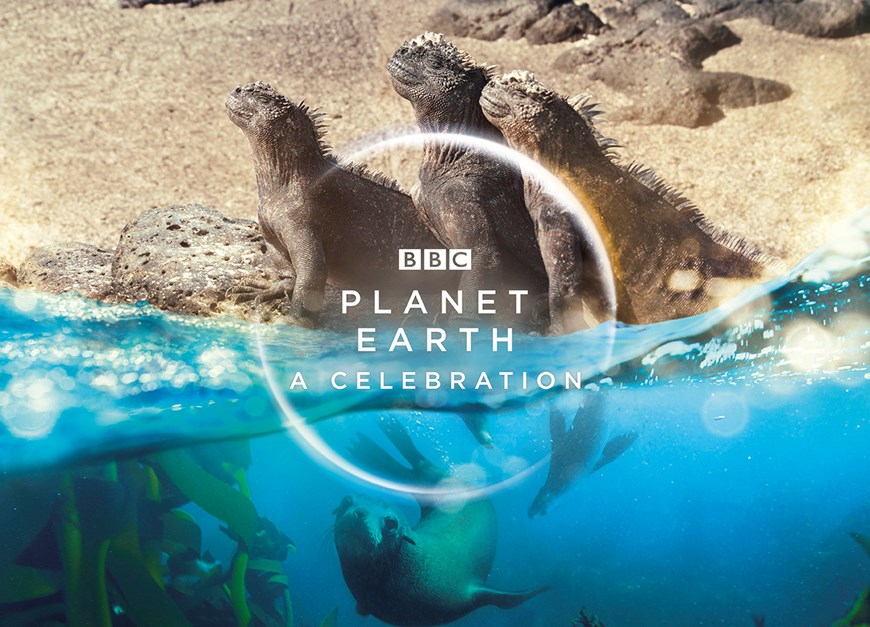 Featuring a new score from Hans Zimmer & Jacob Shea performed by british multi-award winning artist Dave and narration by Sir David Attenborough
BBC Studios Natural History Unit have announced a one-off 60min special combining world class artists from music and wildlife filmmaking like never before. Created to lift the spirits during a time of international uncertainty Planet Earth: A Celebration will air on BBC One, BBC America and on Tencent in China this summer.
In his first Natural History spectacular this year, Sir David Attenborough recorded a new narration during lockdown at his home in London. Planet Earth: A Celebration will take viewers on an exhilarating sensory journey to the wildest places on earth through the gaze of some of nature's most extraordinary creatures from Planet Earth II and Blue Planet II. A new score has been composed by award-winning composers Hans Zimmer, Jacob Shea and the team at Bleeding Fingers and performed by Brit and Mercury award winner Dave on the piano and the BBC Concert Orchestra on strings. Both the orchestra and Dave were filmed for the program in the Lyndhurst Hall at Air Studios, London within strict social distancing and Covid-19 guidelines.
Hans Zimmer said: "Working with David on so many of his magnificent programs celebrating nature and our planet has been a joy for me. I am constantly inspired by what he is able to capture, and the collection of sequences featured in Planet Earth: A Celebration is truly special. It was an honor to once again work with David, Jacob Shea and the BBC Concert Orchestra to highlight these incredible stories once again."
Dave said: "I've always been a fan of powerful natural history documentaries, This is a programme where nature and music come together, so it was only right that I lent my talent, my time, and my attention to this project. It was a pleasure to work alongside Sir David Attenborough and Hans Zimmer." 
Jo Shinner, Executive Producer of BBC Studios Natural History Unit said, "From Sir David right through to the crew - we all had to push ourselves creatively and technically under strict Covid social distancing guidelines to bring the magic and scale of this ambitious production to life. In times of crisis, nature can be a real healer, and we hope that this programme will provide inspiration and comfort."
Julian Hector, Head of BBC Natural History Unit said: "I'm so pleased we can celebrate Planet Earth at this time of great anxiety. I feel sure our audience will feel joy and exhilaration seeing the work of this remarkable team creating natural history through lockdown."
Planet Earth: A Celebration was commissioned by Charlotte Moore, Director, Content, and Jack Bootle, Head of Commissioning, Natural History and Science. It is made by BBC Studios Natural History Unit, co-produced by BBC AMERICA and Tencent Music Entertainment Group (QQ Music, Kugou Music, Kuwo Music and WeSing). The Executive Producer is Jo Shinner.
For more information contact BBC Studios Natural History Unit: Lynn.li@bbc.co.uk / Charlotte.Tromans@bbc.com 
About the BBC Studios Natural History Unit
BBC Studios Natural History Unit produces the world's most iconic natural history programmes, such as Blue Planet II and Planet Earth II, which have been watched by more than a billion people globally. Ranging from technically challenging live shows and super-landmarks to long-running series and children's content, The Natural History Unit programmes include Seven Worlds, One Planet presented by Sir David Attenborough, Primates, Earth's Tropical Islands, Dynasties, Blue Planet Live, Springwatch, Bears About the House, Andy's Aquatic Adventures and third-party commissions for Discovery, Apple, NBC, Quibi, National Geographic and BBC America.
The Natural History Unit is part of BBC Studios, a subsidiary of the BBC, which develops, produces and distributes bold, British content, making over 2500 hours of content each year, operating in 22 markets globally and generating revenue of around £1.4bn. In the year to March 2019, it returned £243m to the BBC Group, complementing the BBC's licence fee and enhancing programmes for UK audiences.
About BBC Studios
BBC Studios, a global content company with British creativity at its heart, is a commercial subsidiary of the BBC Group. Formed in April 2018 by the merger of BBC Worldwide and BBC Studios, it spans content financing, development, production, sales, branded services and ancillaries. BBC Studios' award-winning British programmes are internationally recognised across a broad range of genres and specialisms. It has offices in 22 markets globally, including six production bases in the UK and production bases and partnerships in a further nine countries around the world. The company, which makes 2500 hours of content a year, is a champion for British creativity around the world and a committed partner for the UK's independent sector. BBC Studios has revenue of £1.4bn, and returns around £200m to the BBC Group annually, complementing the BBC's licence fee and enhancing programmes for UK audiences.