BBC Studios announce Doctor Who: The Evil of the Daleks Animation, due for release on 27th September 2021
---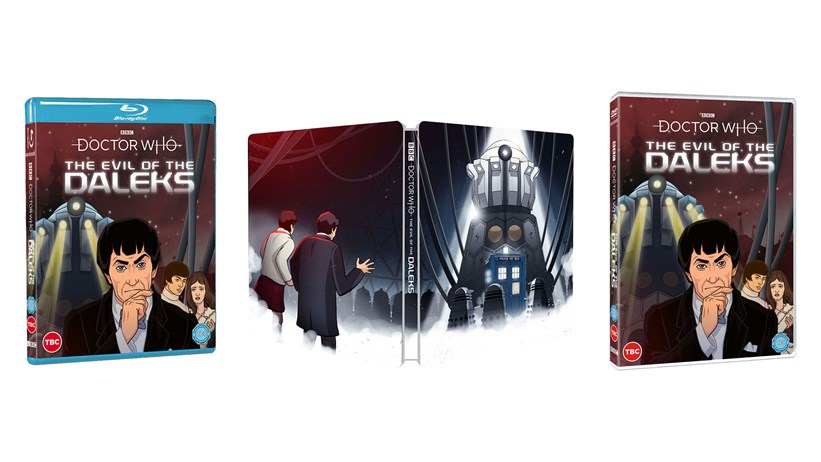 BBC Studios have announced the new Doctor Who: Evil of the Daleks animation starring Patrick Troughton as the Doctor and can reveal artwork alongside a sneak peak of what's included in the release.
The announcement lands on the 53rd anniversary in which the last episode of the original version was aired. The new animated release will be available on DVD, Blu-ray and a Limited Edition Blu-ray Steelbook from 27th September 2021. Pre-orders are available now from HMV, Amazon, Zavvi and Rarewaves.
The Evil of the Daleks is the mostly-missing ninth and final serial of the fourth season of the British series Doctor Who, which originally aired in seven weekly parts from 20th May to 1st July 1967.
Following the success of the existing animations, The Evil of the Daleks fills another gap in the missing Doctor Who content lost in the purge of the BBC archive soon after the programme's original transmission. However, audio-only recordings of all seven episodes have survived and have been used here to create a brand new fully animated presentation of this lost classic, featuring the original surviving second episode.
The Doctor (Patrick Troughton) stars alongside his travel companion Jamie (Frazer Hines) in this recreation in which the TARDIS has been stolen. The story unfolds as the Doctor and Jamie set out to find the missing time machine, bringing them face to face with a very old enemy - the Daleks, who have a new masterplan to conquer the universe. The Daleks force the Doctor to help them on their quest to 'humanise' themselves into deadlier living weapons. This particular story is notable for introducing the Doctor's new companion Victoria Waterfield (Deborah Watling), first seen in the surviving second episode, and also for presenting the Dalek Emperor.
The three disc release gives fans the opportunity to enjoy The Evil of the Daleks, available in either colour or black and white. The release will include:
Remastered Surviving Original Episode 2
Telesnap Reconstructions – 6 episodes
Audio Commentaries 
Audiobook, with recorded commentary by Tom Baker
Making Of
Photo Gallery
AnneMarie Walsh, Director of the 2021 production said "It's been a privilege to work on this fantastic story with such a brilliant team - thanks to the fans for supporting our work, I hope you all enjoy watching it as much as we enjoyed making it!"
DOCTOR WHO: THE EVIL OF THE DALEKS
Written by David Whitaker
Directed by AnneMarie Walsh (2021 Production)
Directed by Derek Martinus (1967 Production)
Produced by Paul Hembury (2021 Production)
Produced by Innes Lloyd (1967 Production)
Starring Patrick Troughton, Frazer Hines, Marius Goring, John Bailey, Deborah Watling, Brigit Forsyth, Gary Watson, Jo Rowbottom, Windsor Davies and Sonny Caldinez.
RRP:
DVD – £20.42
Blu-Ray - £25.52
Limited Edition Blu-Ray Steelbook - £40.84
Pre-order: HMV, Amazon, Zavvi, Rarewaves
-Ends-
For more information, please contact: airlie.wilson@bbc.com
NOTES TO EDITORS
About BBC Studios
BBC Studios, a global content company with bold British creativity at its heart, is a commercial subsidiary of the BBC Group. Able to take an idea seamlessly from thought to screen and beyond, its activities span content financing, development, production, sales, branded services, and ancillaries across both its own productions, and programmes and formats made by high-quality UK independents. Award-winning British programmes made by the business are internationally recognised across a broad range of genres and specialisms, with brands like Strictly Come Dancing/Dancing with the Stars, Top Gear, Doctor Who and Bluey. BBC Studios has offices in 22 markets globally, including ten production bases in the UK and production bases or partnerships in a further nine countries around the world. The company, which ordinarily makes around 2500 hours of content a year for both the BBC and third parties including Apple, Amazon and China Mobile, is a champion for British creativity around the world. It is also a committed partner for the UK's independent sector through a mix of equity partnerships, content investment and international distribution for programme titles. To the BBC, BBC Studios contributes both cash dividends and funds for programme-making, supporting the licence fee and enhancing programmes for UK audiences.  
About Doctor Who: Doctor Who is one of the longest running action adventure television series in the world spanning 55 years and winning over 100 awards. This quintessentially British show has a huge global following, with 9.6m fans across social platforms/channels and 100m video views on YouTube in the last year alone. It was the most tweeted about drama programme brand in the UK throughout 2018. Doctor Who is sold to over 249 territories. Series 11 achieved the 2nd biggest UK drama launch of 2018 and the 3rd most watched Doctor Who series since its return in 2005. It outperformed channel averages internationally and delivered double digit series on series increases in the US and Canada. It has been honoured by Guinness World Records as the longest running science-fiction series in the world. Doctor Who has a proven track-record in consumer products and live entertainment with over four and a half million Sonic Screwdrivers sold in the past eleven years, over 13 million action figures sold since 2005, over 19 million DVDs sold globally and over one million tickets sold for live events.
Doctor Who logo and insignia © 2018 and TM BBC. Licensed by BBC Studios.