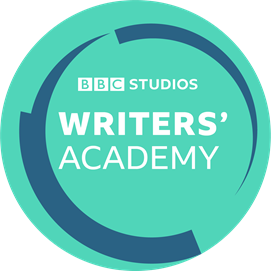 BBC Studios Writers' Academy
Terms & Conditions
Eligibility Criteria
1. To be eligible to apply for the BBC Studios Writers' Academy 2019 you must meet the following criteria:
You must be aged 18 years or over on 8 April 2019.
You must fit ONE or more of these categories:
You have at least one professionally produced piece of written work, minimum of 30 mins in length, in television, radio, theatre or film drama. OR
You have a literary agent but no professional credit. OR
You have been put forward by one of the participating BBC Studios production companies ("Participating Company(ies)"). There will be a maximum of two writers from each Participating Company. Please be advised this will not guarantee a place on the Writers' Academy. Participating Companies include BBC Studios Productions Limited (through the Wales, London and Factual Drama hubs), Clerkenwell Films, Cuba Pictures, House and Moonage Pictures.
You must be a resident of the UK, Channel Islands, Isle of Man and Republic of Ireland.
You must not be employed by, be in a financial relationship with or be, a live-in partner or immediate relative (i.e. mother, father, son, daughter, brother, sister) of somebody employed by the BBC, by one of the Participating Companies or any person connected with the BBC Studios Writers' Academy.
Proof of age, identity and eligibility may be requested. BBC Studios' decision as to the eligibility of individual entrants will be final and no correspondence will be entered into.
2. All entries must be the original work of the entrant and must not infringe the rights of any other party. The BBC accepts no liability if entrants ignore these rules and entrants agree to fully indemnify the BBC against any claims by any third party arising from any breach of these rules.
3. If the submitted script has been through a development process with a production company, agent, training scheme etc. then this must be declared in the entry application accompanying your script.
4. Novels, short stories, poems and short film scripts are ineligible and will be not be considered. Short film scripts shall be considered to be any script that is less than 30 minutes duration.
5. The BBC reserves the right not to read the candidate's application if the candidate and/or submission is in breach of any of these terms and conditions and/or fails to meet the eligibility criteria.
Submission and Application Process
6. Entrants must submit:
A CV, highlighting their professionally produced credit or credits, or agent details AND
An original, full-length drama script, 30 minutes or longer (minimum 30 pages). The script can be written for radio, television, theatre and/or film AND
A completed one-page pitch outlining a potential story idea for EastEnders, Casualty, Holby City, Doctors or River City. The story idea should concern a regular character on one of these dramas. It should outline a complete character arc, with beginning, middle and end.
All material must be saved as PDF and submitted via the BBC Writersroom E-Submissions System
Submission opens at Midday on Monday 8 April 2019.
Your application must be legibly typed, formatted and written entirely in English.
Writing partnerships consisting of two people (max) may apply. Any scripts submitted must be written by the partnership.
7. All submissions must be received by 12 noon on Tuesday 7 May 2019. Entries received and/or submitted after this date shall not be reviewed and will not be eligible for consideration for the BBC Studios Writers' Academy.
8. All entrants will be notified of the outcome of their submission via the details provided on their E-Submissions account. Unfortunately, we shall not be able to give individual feedback on unsuccessful submissions.
9. By applying for the scheme, entrants warrant that they have legal capacity to enter the scheme and agree to be bound by these terms and conditions.
Review Process
10. The review process will run from midday 7 May 2019, up to and including 31 July 2019. All decisions will be made by 31 July 2019. It will proceed as follows:
Stage One
All submissions will be reviewed by a panel of experienced script readers and BBC Studios Writers' Academy staff, who will assess and discuss the applications against the criteria outlined above.
To confirm - all applicants/scripts will get an initial ten-page read to assess whether they should receive a full script read. Applicants put forward by Participating Companies and Continuing Drama shows will automatically receive a full script read, however a full script read does not guarantee a place on any longlist or improve chances of being selected for the longlist.
Stage Two
Once all submissions which have been selected by the panel at Stage One have received a full script read, and story ideas have been reviewed, a longlist of potential successful applicants shall be created.
Unsuccessful applicants will be notified via the Writersroom E-Submission System.
Stage Three
All longlisted writers shall be called to an interview and/or writers' workshop. The interviews and/or workshops will take place in London, 3 – 11 July 2019. A written exercise may be given in advance.
From the longlist, up to twenty writers will then be shortlisted for Stage Four.
Stage Four
Interviews for the shortlisted writers will take place in London, 25 – 30 July 2019.
After the Stage Four interviews, a minimum of 8 writers will be selected to participate in the BBC Studios Writers' Academy 2019.
Successful applicants will be notified by 31 July 2019 at the latest.
11. BBC Studios' decision as to who is selected for the BBC Studios Writers' Academy 2019 shall be final. For the avoidance of doubt, the written submissions of any applicants who are not selected to participate in the BBC Studios Writers' Academy shall not be used or exploited by BBC Studios.
BBC Studios Writers' Academy Engagement
12. For the initial 13 weeks of the Writers' Academy (the "Initial Training Period"), successful applicants ("Writers") will be paid a fee of £500 per week (the "Fee").
13. In addition to payment of the Fee, an accommodation allowance and travel expenses will be paid to any Writers based outside of London during the Initial Training Period. The exact amount of these expenses shall be confirmed at the time of engagement. The BBC shall not be responsible for any other expenses incurred unless agreed in writing in advance.
14. After the Initial Training Period, Writers will be given an exclusive series of placements, over a period of 9 months, on EastEnders, Casualty and Holby City, during which Writers will be commissioned to write an episode for the relevant production, and will also be given a paid writing attachment to River City (the "Placement Period").
15. Writers will be paired with one of the Participating Companies (the "Paired Company") and after the Initial Training Period, BBC Studios will commission Writers to write a treatment for an original series idea for the Paired Company.
16. Throughout the Initial Training Period, the Placement Period and for a period of 24 months after the Placement Period (the "Option Period"), BBC Studios will have an exclusive first option to commission the Writers to write script(s) for EastEnders, Casualty, Holby City, River City or Doctors and the Paired Production Company will have a first look over all of the Writers' own scripted ideas (whether in the form of treatments, scripts and/or other form). Should the Paired Company pass on its first look opportunity to develop any of the Writers' scripted ideas, there will be an opportunity during the Option Period for the Writers' scripted ideas to be considered for development by other suitable production companies within the BBC Studios family.  
Additional Terms
17. All writers selected by the BBC Studios Writers' Academy shall be asked to participate in advertising, publicity and promotional events arranged by the BBC (the "Publicity") in connection with the BBC Studios Writers' Academy. By submitting your application, you agree and consent to participating in any Publicity reasonably requested by the BBC and consent to having your picture taken and/or being interviewed by the BBC when participating in the BBC Studios Writers' Academy. You grant us the perpetual and worldwide right to use your name, likeness, photograph, interviews and the Publicity, in whole or in part, in or in connection with the promotion of the BBC Studios Writers' Academy in any and all media.
18. BBC Studios reserves the right to disqualify any submission which breaches any of these terms and conditions.
19. BBC Studios reserves the right to disqualify applications that are inconsistent with the BBC Editorial Policy Guidelines or which may bring the BBC into disrepute.
20. If you have any convictions other than spent convictions under the Rehabilitation of Offenders Act 1974 (as amended), unfortunately you shall not be eligible to participate in the BBC Studios Writers' Academy. Furthermore, you must notify us immediately if there are any criminal charges brought against you after the date of your submission, during the application process and/or (for successful applicants) during the Writers Academy – as we reserve the right to disqualify your application.
21. BBC Studios reserves the right to cancel or alter the scheme at any stage, including members of the interview panel if deemed necessary in its reasonable opinion, and if circumstances arise outside of its control (such as fire, flood, fire, acts of terrorism or acts of good). In this event, a notice will be posted on this website.
22. The BBC will only ever use personal details for the purposes of administering the scheme. Personal details will not be passed to any third party without your prior consent. Please see the BBC's Privacy Policyfor more information about how your personal data is used and/or stored by the BBC.
23. These Terms and Conditions are governed by the laws of England and Wales.