Stargazing Live Specials: Blast Off Live and Brit in Space
Tim Peake's mission to become the first Briton to serve on the International Space Station
In December 2015, Professor Brian Cox and Dara Ó Briain brought the UK together to celebrate an historic journey: British ESA Astronaut Tim Peake blasting off from terra firma and then arriving safely at his destination, the International Space Station.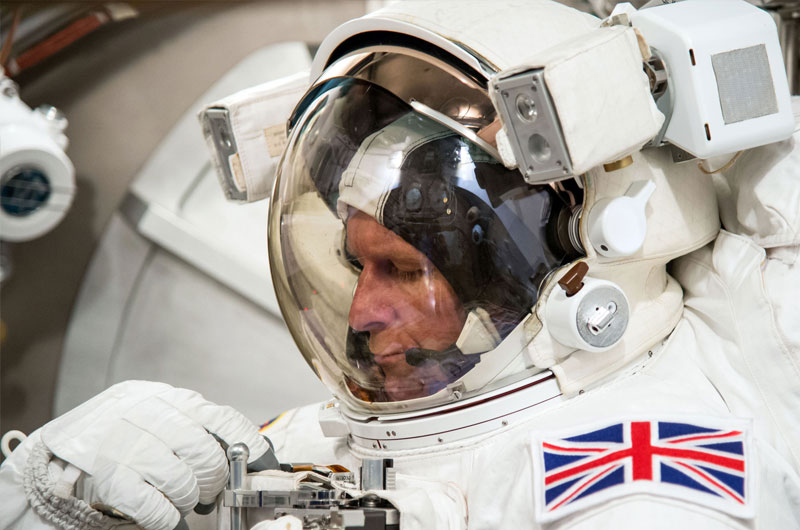 "Blast Off Live and Brit in Space captured one of those rare moments when it felt like the whole country came together to celebrate a true hero."
Dara Ó Briain
The detail
---
Broadcasting live on BBC One from London's Science Museum on the morning of the flight, Brian Cox and Dara Ó Briain were joined by thousands of excited schoolchildren, as well as famous astronauts including Bowie-fan Chris Hadfield. With Dallas Campbell behind the scenes at the launch site in Kazakhstan, viewers of the 45-minute Blast Off Live were treated to the best ring-side seat in the world.
Nominated for a BAFTA award for Best Live Event in 2016, the 75-minute evening programme Brit In Space showed Tim's arrival at the International Space Station. It helped make the arrival of the first British astronaut at the ISS a truly national event, allowing audiences to bear witness as history was made. Its BBC Two audience peaked at 4.1 million.
Blast Off Live and Brit in Space put BBC Studios' Science Unit at the core of one of the year's biggest news events. It was achieved through unique collaboration with BBC News, CBBC and BBC Digital Production, and with UK, European and Russian Space Agencies.
The programme established a new bench mark for media coverage of International Space Station launches, and cemented a lasting relationship between BBC Science and Tim Peake.