DIY SOS
The BBC's flagship homebuilding series
Now in its 17th year, the BBC's flagship homebuilding series brings local communities together to take on ambitious builds for truly deserving causes. Laughter, sweat and tears are often involved as hundreds of volunteer builders work together to complete a project of enduring value in just nine days.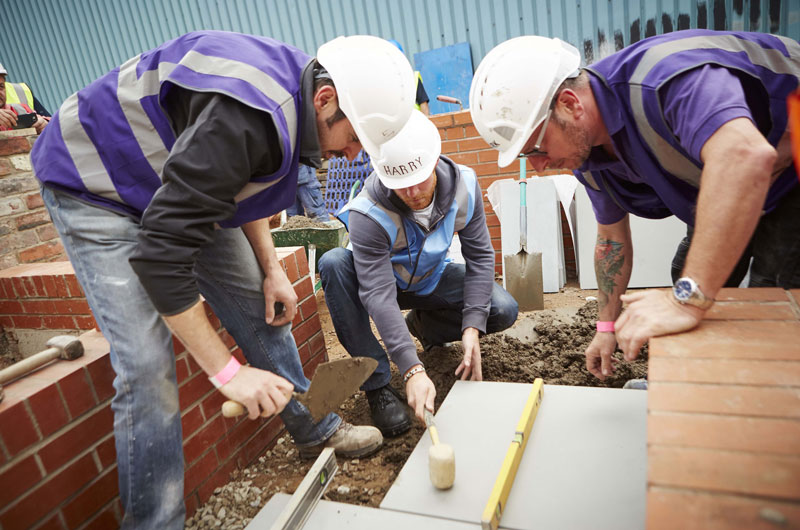 "The combination of good humour and serious social commitment made for an affecting hour of television."
The Telegraph
The detail
---
DIY SOS: The Big Build is presented by Nick Knowles, with his trusted team of Mark, Billy, Chris, and Jules plus hundreds of volunteer builders. In an hour-long primetime slot on BBC One, they race against the clock to build homes for deserving families, renovate entire streets for veterans, create gardens for sick children or centres for young carers.
Produced by BBC Studios' Unscripted Productions, the series has won numerous awards, including the Best Lifestyle Show at the 2018 TV Choice Awards, a Royal Television Society Programme Award for Best Popular Factual and Features in 2016 and two RTS West awards as well as being nominated for a BAFTA, National Television Awards and a Mind Mental Health Award.
Recently the series has embarked on DIY SOS 'specials' to highlight social issues, such as the plight of British veterans dealing with post-traumatic stress disorder and physical disabilities. Homes for Veterans featured the renovation of a whole Manchester street and 17 homes for veterans, with Prince Harry and Prince William enlisted as volunteers. It achieved an audience of 9.6 million viewers and a 34% share.
The Great Ormond Street Hospital and RHS Chelsea Garden episode illustrated the importance of gardens in healing, while the Million Pound Build in Blackpool for Children In Need brought attention to the plight of young carers in the UK today.